Borgo degli Artisti Loano (SV) Liguria Europe
apartment, house
Property Description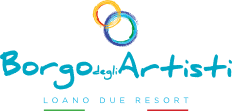 Your home by the sea, with all the facilities of a resort
A WHOLE WORLD AROUND YOUR HOUSE
From the parkland to the sea-view swimming pools
The large space in which this ligurian villas are located plays host to a parkland of maritime pines and Mediterranean maquis; it also encompasses a natural history trail and a children's play area, allowing the whole family to relax and have fun in total safety. The facilities that we have designed revolve around the three large swimming pools with hydromassage feature, which were conceived by the architect Luigi De Filippo and are located on different levels – they are even linked together by continuous-cycle waterfalls. Adjacent to them is the large solarium with its stylish lounge area on the mezzanine; nearby are the beach volleyball court, the tennis courts and the multi-function pitch/court for 5-a-side football, basketball and volleyball.
Fitness and relaxation
If you want to stay in shape, you can visit the fitness area, which features exercise bikes and weight benches, whereas if you want to relax, the sauna and Turkish bath await you. The mini-market is on hand for all your day-to-day needs.
Large private outdoor spaces and a modern, highly functional design
Fitting seamlessly into the lush surroundings with their myriad open spaces are the single residential units, all complete with large terraces or private gardens. Particular care has been lavished on the design: the transparent glass used for the inserts and terraces, and the exterior panels made using wooden slats, create unexpected geometries and imbue the whole with a sense of dynamism.
The construction quality leverages almost 50 years of experience in residential building, and is evident in the A-rating for energy efficiency. Indeed, the built-in systems use innovative technologies and the air-conditioning is managed via home automation, while the materials are all eco-friendly and provide the necessary thermal and acoustic insulation.
The interiors are customizable, thanks to the support offered by our architects. You can feel the quality and originality by visiting the fully furnished show home in the residence.
DOUBLE THE FACILITIES, FOR ENDLESS FUN
Loano2Village, which is located 800 meters from the residential complex, affords a plethora of opportunities for fun and leisure, playing host as it does to various swimming pools, including one heated pool, and numerous restaurants and bars. It also includes the mini club for youngsters, with plays and games laid on by the entertainment staff. Assistance at home is available 7 days a week, with plumbers and electricians on hand to carry out any necessary maintenance.
If this offer does not fit your requirements, we offer a wealth of alternative offerings with a focus in Sardinia, Liguria, Lombardy and Lake Iseo together with our local partner. Please don´t hesitate to contact us.