Property Description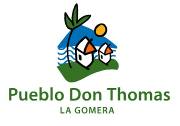 a deep breath full of tranquility
The Pueblo Don Thomas holiday complex on the island of La Gomera presents itself as the exclusive development of high-quality villas and apartments.
The resort built by the company Fred Olsen S.A. is located four Kilometer from the idyllic fishing harbour of Playa Santiago in the South of the island. Located above the golf course and Hotel Jardin Tecina on an area of 225,000 square meters the exclusive villas and apartments of Pueblo Don Thomas where built in the middle of a spacious green garden.
The buildings are a maximum of 2 floors high and guarantees optimal insertion in nature. Buyers have the option to choose between different high-quality materials and designs in equipping their objects.
Luxury villas are available starting at 680,000 Euros and luxury apartments from 299.000,-.
Owners have the option, just a few minutes away from their home, to play the exceptional 18-hole Tecina golf course.
The nearby village of Playa Santiago offers all necessary infrastructure, a Bank, a post office, a bakery, a pharmacy, a medical center, a flower shop and tourist information. The passenger ferry "Fred Olsen" coming from Tenerife with a stopover in San Sebastian stops three times a day. Bars and restaurants are located on the small harbour.
Invest in style:
Inspired by the tradition of the villages typical for the island, Pueblo Don Thomas exudes the calm and serenity, which reflects the natural quiet pace of life of La Gomera.
Pueblo Don Thomas is a quiet, intimate and safe. Light and space were in focus at the planning of all units to create large and bright spaces.