Villa Paradiso Sardinien, Italy Europe
mansion
Property Description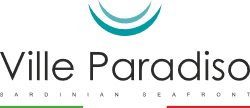 Two detached Sardinian villas immersed in the Mediterranean maquis near the edge of a cliff
Situated in a beautifully landscaped area, the two Sardinian villas offer the opportunity to admire the sea and the stunning mediaeval village of Castelsardo simply by stepping out into your Mediterranean garden. Both the two Sardinian villas are A-rated for energy efficiency, with designer furnishings in the local style.
Heightening the senses, searching for quality.
Incredulity and fulfilment are the first sensations that you feel as you enter the two cliff-top Paradise Villas, with the motion of the waves providing the only background; the perfumes of heather and broom fill your nostrils, while the 180˚ views take in the 90+ kilometers that separate the island of Asinara and the beaches of Stintino from the promontory of Isola Rossa.
Suspended between sky and nature, with Mediterranean maquis all around, the villas offer the rare opportunity to live facing out to sea in a totally private, exclusive location.
The two air-conditioned and soundproofed Sardinian villas are A-rated for energy efficiency and are constructed using eco-friendly materials. The villas each have a private terrace and a garden embellished by consummate attention to detail and the planting of exclusively local flowers and herbs. Each villa, fitted out by our designers in Sardinian style, can be customized down to the smallest detail.
Close to the towns of Stintino and Porto Torres, and near to the airport.
With myriad discoveries to be made.
Castelsardo is located just 45 minutes' drive from Alghero airport, and a little over an hour's drive from Olbia airport. In addition, it is just 20 minutes from Porto Torres, where you can take the ferry for the island of Asinara, and near to the famed Casteldoria thermal spa on the river. The town, renowned for its mild climate throughout the year, has its historical heart in the mediaeval borgo which surrounds the 13th-century castle and which is a very vibrant place to visit from springtime onwards thanks to its numerous craft boutiques and restaurants. It looks out across a tract of sea rich in posidonia, with fine, sandy beaches open to all and numerous imposing cliffs. The tourist port is public. The marine tradition is everywhere to be seen: the local cuisine is mostly based on fish and in particular on the queen of shellfish, lobster – Castelsardo is the source of a popular recipe known as salsa alla castellanese. The nightlife is vibrant and well-priced, with festivals and other events throughout the year. Holy week is an important period, and sees mystery rites alternating with secular traditions. The summer carnival is also not to be missed, with singing and dancing until dawn.
If this offer does not fit your requirements, we offer a wealth of alternative offerings with a focus in Sardinia, Liguria, Lombardy and Lake Iseo together with our local partner. Please don´t hesitate to contact us.